12 #2 Pencils
1 Box of Crayons 24/Pkg
2 Glue Sticks
1 Box of Tissues
1 Pink Eraser
1 Pkg Washable Markers 8 ct.
1 Pair of Fiskar Blunt Tip Scissors
1 Pencil Case
2 Wide Ruled Spiral Notebooks
3 Pocket Folder
1 Pkg Map Colored Pencils
1 Bottle of Hand Sanitizer
1 Pkg of Wipes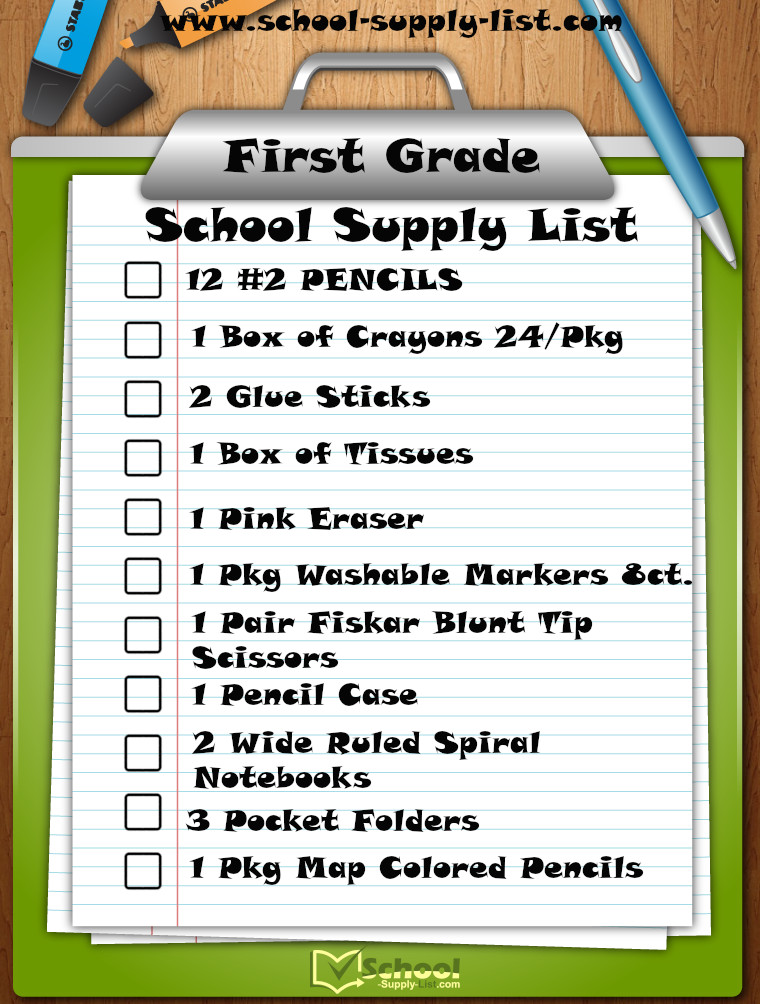 This list is a suggested 1st Grade school supply list. Most of the supplies used in the 1st Grade are consumable and will need to replenished throughout the school year. Check with your child's teacher to see if more supplies are needed. Some of the supplies that may need to be repurchased are Crayons, Glue Sticks, Tissues, Wipes, Markers, Hand Sanitizer and Wipes.
Now that we are living in a new world with Covid 19, it is more important than ever to make sure our kids stay clean and safe at school. Hand sanitizers and wipes will be on the top of most supply lists this year for all grade levels.
The most important thing is that your child attend class. Don't worry so much about the exact supplies, as the teachers are usually very flexible when it comes to supplies.
A few things to consider are that rolling backpacks are never encouraged as they take up too much space in the halls and are troublesome when it comes to stairs.